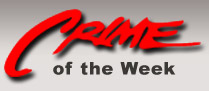 Pharmacy Robbery
Week of Jan 8, 2014
The Bowling Green Police Department is investigating a robbery of the CVS Pharmacy at Lovers Lane and Scottsville Road. Police say on Sunday, December 29, just before 6:00 p.m., two men entered CVS and handed a note to pharmacy employees implying they had a weapon and demanded narcotics. After receiving the drugs, the men ran from the store and left the area on foot. One man is described as a white male 6' to 6' 1" tall in his early 20's wearing a dark colored "puffy" type jacket with a dark colored bandana covering his face and wearing cloth type gloves. He has an average build and a thin face. The second man was described as a white male 6' tall with an average build wearing a gray or light tan work coat and a gray handkerchief over his face. Police believe the men ran around the back of the store after the robbery.
If you know either of these men, Crime Stoppers will pay you cash for information leading to their arrest.
If you have information about this crime or any other crime, call Crime Stoppers at 781-CLUE or click to leave us a cyber tip. You could receive up to a $1000 cash reward!