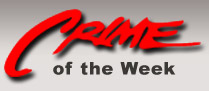 Burglary
Week of Dec 10, 2013
The Warren County Sheriffs Office is investigating a burglary that occurred Thursday, October 13, 2013, in the nighttime hours at Irving Material Incorporated.
Deputies say an unknown white male entered the business through the break room and stole security cameras from inside the business. The man then tried to force his way into the main office, causing damage to the door frame and lock.
If you know the identity of this man, Crime Stoppers will pay you cash for information leading to his arrest. You can "text a tip" to Crime Stoppers. Text "SCKY" plus your message to 274637 (Crimes). All information is secure and you will remain anonymous
If you have information about this crime or any other crime, call Crime Stoppers at 781-CLUE or click to leave us a cyber tip. You could receive up to a $1000 cash reward!