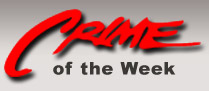 Burglary
Week of Nov 26, 2013
The Bowling Green Police Department is investigating a burglary and need your help identifying a possible suspect.
Police say on Sunday, October 13, a resident on Sternwheel Court called police believing someone had been inside his house. The man told police he fell asleep on Saturday night and when he awoke early Sunday morning found a window open in the house. The man realized there were several items missing one of which was his wallet. Shortly after the police left, the man discovered his credit card had been used at Minit Mart on Scotty's Way. Police were able to locate this man on surveillance video and determined he was the person using the stolen card.
If you know the identity of this man, Crime Stoppers will pay you cash for information leading to his arrest. You can "text a tip" to Crime Stoppers. Text "SCKY" plus your message to 274637 (Crimes). All information is secure and you will remain anonymous.
If you have information about this crime or any other crime, call Crime Stoppers at 781-CLUE or click to leave us a cyber tip. You could receive up to a $1000 cash reward!