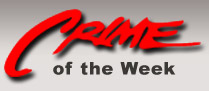 Arson Case
Week of Oct 23, 2013
The Bowling Green Fire Department is investigating an arson case. On October 15, a land owner in the 11600 block of Halls Chapel Road off of Barren River Road contacted Fire Investigators about a vehicle he located on his farm. Investigators discovered a Chevrolet Silverado completely burned in a secluded area of the farm.
Investigators determined the vehicle was reported stolen on August 21 from Regal Bowling Green Stadium 12 on Great Escape Court. Investigators told police all the tools previously reported stolen along with the truck were not located in the burned out truck. The truck is described as a silver 2001 Chevrolet Silverado extended cab 4x4 with a metal ladder rack attached to the bed. Various hand tools were also taken away from the vehicle.
If you have information about the fire bugs call Crime Stoppers when they get arrested you get paid! You can "text a tip" to Crime Stoppers. Text "SCKY" plus your message to 274637 (Crimes).
If you have information about this crime or any other crime, call Crime Stoppers at 781-CLUE or click to leave us a cyber tip. You could receive up to a $1000 cash reward!