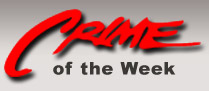 Purse Theft
Week of Oct 17, 2013
The Bowling Green Police Department is investigating a theft of a purse.
Police say on Sunday, September 29th, just before 6:00 PM a woman's purse was stolen from Kroger on the Bypass. The woman told police she was approached by an unknown black female asking for money while loading her groceries into her vehicle. The woman then pushed her shopping cart to the outdoor cart return, leaving her purse in the shopping cart. Seconds later the woman returned to her cart and discovered her purse had been stolen. Video surveillance shows the black female that was asking for money steal the purse and then flee the area as the passenger in a dark colored Chevrolet Trail Blazer. The suspect is described as a heavy set black female wearing a white shirt.
If you know the identity of this woman Crime Stoppers will pay you real money for your information.
If you have information about this crime or any other crime, call Crime Stoppers at 781-CLUE or click to leave us a cyber tip. You could receive up to a $1000 cash reward!