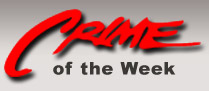 Card Fraud
Week of Jun 25, 2014
The Bowling Green Police Department is investigating a fraudulent credit card case. Police say on Thursday, May 22nd, a woman was in a local hair salon when two females came in with twins. The babies began crying so she sat her credit card and keys in a chair and helped the females with the children. She went back to get her keys and card and her card was gone.
The victim told police her card was used three times. Once at IGA Shell on the Bypass, once at Wendy's and once at Walmart on Morgantown Road.
The suspect is described as a black female with short black hair, 5'2 – 5'4 with a thin build. The female is wearing sun glasses a blue sleeveless top and pink jeans.
If you know the identity of this thief, Crime Stoppers will pay you cash for information leading to their arrest.
If you have information about this crime or any crimes you can call the South Central Kentucky Crime Stoppers at 781-CLUE, toll free 866-842-CLUE or visit our Web site at www.781CLUE.org. Crime Stoppers only wants your information, not your name. Our telephone lines are not recorded and we don't use caller ID or *69. Crime doesn't pay...Crime Stoppers does...
If you have information about this crime or any other crime, call Crime Stoppers at 781-CLUE or click to leave us a cyber tip. You could receive up to a $1000 cash reward!