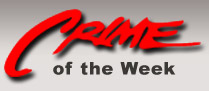 Water Park Vandals
Week of Jun 18, 2014
The Bowling Green Police Department is investigating an act of vandalism. Police say on Thursday, April 17th between noon and 9:00pm, a park ranger reported a vandalism incident that occurred at Preston Miller Water Park on Tomblinson Way. The park ranger told police he was locking the park for the evening and noticed gold lines had been spray painted on one of the buildings. It appeared the vandals were not attempting to make words or signs just spray painting lines up and down the doors.
The maintenance department told police the damages will cost over $500.00 to repair.
If you know the identity of this artist, Crime Stoppers will pay you cash for information leading to their arrest.
If you have information about this crime or any other crime, call Crime Stoppers at 781-CLUE or click to leave us a cyber tip. You could receive up to a $1000 cash reward!