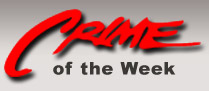 Glasgow Bank Robbery
Week of May 28, 2014
Crime Stoppers needs your help! The Glasgow Police Department is investigating a Bank Robbery. Police say on Monday, May 19th just before 10:00am, a man entered the Edmonton State Bank on North Race Street and robbed the bank. Employees told police a white male approached one of the tellers and handed her a bag and demanded money. When the teller moved too slow for the man, he showed a gun he had tucked in his waistband and told her to hurry up. After robbing the bank, the man walked to a nearby neighborhood, entered a jeep and drove from the area.
The white male is describe to be 6'0 - 6'3 with a slim build wearing white or off-white work gloves and work boots with jeans.
If you know the identity of this robber, Crime Stoppers will pay you cash for information leading to his arrest.
If you have information about this crime or any other crime, call Crime Stoppers at 781-CLUE or click to leave us a cyber tip. You could receive up to a $1000 cash reward!