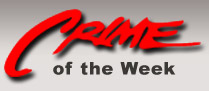 Jr. Foods Robbery
Week of May 21, 2014
Crime Stoppers needs your help! The Bowling Green Police Department is investigating a robbery and need your help in identifying the thief. Just before 9:30 PM on Saturday, May 10th, The Bowling Green Police were called to Jr. Foods in the 5000 block of Louisville Road for a robbery which had just occurred.
Employees told police a black man about 6'0, 225 pounds entered the store and asked to purchase cigarettes. When the employee opened the cash register the man reached over the counter and grabbed the cash drawer. The employee struggled with the man but was not able to keep him from taking the drawer. The man then ran from the store with an undisclosed amount of money.
If you know the identity of this robber, Crime Stoppers will pay you cash for information leading to their arrest.
If you have information about this crime or any other crime, call Crime Stoppers at 781-CLUE or click to leave us a cyber tip. You could receive up to a $1000 cash reward!