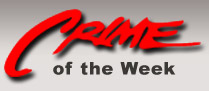 Ulta Theft
Week of May 7, 2014

The Bowling Green Police Department is investigating a shoplifting from a store in the mall. Police say on Friday, April 11th just before 1:00 pm a black male stole several bottles of fragrances from Ulta Beauty in the mall.

Employees told police a the black male had long dreadlocks and was wearing khaki pants and a dark jacket. He was carrying a backpack which he began putting multiple fragrance bottles into. Employees valued the stolen merchandise over $1000.00.

If you know the identity of this man, Crime Stoppers will pay you cash for information leading to his arrest.

If you have information about this crime or any other crime, call Crime Stoppers at 781-CLUE or click to leave us a cyber tip. You could receive up to a $1000 cash reward!