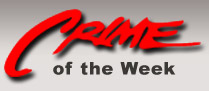 Homicide
Week of Apr 16, 2014
Crime Stoppers needs your help! The Bowling Green Police Department is investigating a serious assault. Police say just after 5:15pm on Monday April 14, they received a call of an unconscious man on his porch in the 1400 block of North Sunrise. Police located the man and determined he had been beaten. The man was transported to the hospital then life-flighted to a trauma center to receive care for his wounds. After several hours, detectives were able to locate this video surveillance of three males walking in the 1400 block of North Sunrise around the time of the assault. Bowling Green Police Department Detectives want to question these males and need your help in identifying them.
If you know the identities of any of these males, Crime Stoppers will pay you cash for your information.
If you have information about this crime or any other crime, call Crime Stoppers at 781-CLUE or click to leave us a cyber tip. You could receive up to a $1000 cash reward!