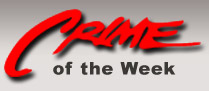 Theft from Cash Drawer
Week of Jun 11, 2014
The Bowling Green Police Department is investigating a theft from an area Walmart. On Saturday, May 24th, the Bowling Green Police Department was called to Walmart on Morgantown Road regarding a theft from a cash drawer. Employees told police a register was over $1300.00 short prompting management to review security footage. Video surveillance shows two men exiting a black SUV and entering the store. Once inside the older man blocks the view for the other man to open the register and take out cash. The men then leave the store and enter the same black SUV.
One man is described as a heavy set black male in his early 40s wearing a white tank top. The second man is described as being in his 60's wearing a plaid shirt and using a cane to assist him in walking.
f you have information about this crime or any crimes you can call the South Central Kentucky Crime Stoppers at 781-CLUE, toll free 866-842-CLUE or visit our Web site at www.781CLUE.org. Crime Stoppers only wants your information, not your name. Our telephone lines are not recorded and we don't use caller ID or *69. Crime doesn't pay...Crime Stoppers does...
If you have information about this crime or any other crime, call Crime Stoppers at 781-CLUE or click to leave us a cyber tip. You could receive up to a $1000 cash reward!