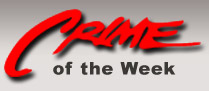 Ulta Beauty Theft
Week of Apr 23, 2014
Crime Stoppers needs your help! The Bowling Green Police Department is investigating a shoplifting from a Bowling Green store. Police say on Saturday, March 30th three black females entered Ulta Beauty in the Greenwood Mall and stole various bottles of perfume. Employees say the women entered the store with bags in hand and began placing several bottles into the plastic bags. It is estimated the thieves got away with overt $2000.00 in perfume.
If you know the identity of these women, Crime Stoppers will pay you cash for information leading to their arrest.
You can "text a tip" to Crime Stoppers. Text "SCKY" plus your message to 274637 (Crimes).

All information is secure and you will remain anonymous.

If you have information about this crime or any crimes you can call the South Central Kentucky Crime Stoppers at 781-CLUE, toll free 866-842-CLUE or visit our Web site at www.781CLUE.org. Crime Stoppers only wants your information, not your name. Our telephone lines are not recorded and we don't use caller ID or *69. Crime doesn't pay...Crime Stoppers does...
If you have information about this crime or any other crime, call Crime Stoppers at 781-CLUE or click to leave us a cyber tip. You could receive up to a $1000 cash reward!