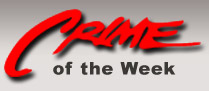 Tractor Theft
Week of Apr 9, 2014
Crime Stoppers needs your help! The Warren County Sheriff's Office is investigating a tractor theft. Deputies say during the overnight hours of Sunday March 16th a tractor was stolen from the 1700 block of Claypool Alvaton Rd. The victim told police he parked in an open field and he remembered seeing the tractor on Sunday evening. The victim described the tractor as an orange 2005 - 4 wheel drive Kubota tractor with a cab. The tractor has a front end loader and is missing both side steps.
If you have information about this tractor, Crime Stoppers will pay you cash for information leading to this man's arrest. The victim is also offering a reward above the Crime Stoppers pay out as well.
You can "text a tip" to Crime Stoppers. Text "SCKY" plus your message to 274637 (Crimes).

All information is secure and you will remain anonymous.

If you have information about this crime or any crimes you can call the South Central Kentucky Crime Stoppers at 781-CLUE, toll free 866-842-CLUE or visit our Web site at www.781CLUE.org. Crime Stoppers only wants your information, not your name. Our telephone lines are not recorded and we don't use caller ID or *69.

Crime doesn't pay...Crime Stoppers does...

If you have information about this crime or any other crime, call Crime Stoppers at 781-CLUE or click to leave us a cyber tip. You could receive up to a $1000 cash reward!