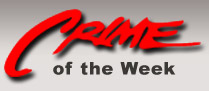 Check Fraud
Week of Mar 12, 2014

Crime Stoppers needs your help! The Bowling Green Police Department is investigating a theft from a vehicle that turned into check fraud. Police say on Thursday, January 23, a man noticed his vehicle had been broken into in the 800 block of Alumni Drive. He then realized his checkbook was missing and called his bank. The victim was told three of his checks had been cashed at local businesses. Police were able to obtain surveillance video of the suspects but need your help in identifying them.

In the video there is a man and two women arriving in a black pickup truck and police believe all three are involved. If you recognize any of these people Crime Stoppers will pay you cash for information leading to their arrest.

You can "text a tip" to Crime Stoppers. Text "SCKY" plus your message to 274637 (Crimes).

All information is secure and you will remain anonymous.

If you have information about this crime or any crimes you can call the South Central Kentucky Crime Stoppers at 781-CLUE, toll free 866-842-CLUE or visit our Web site at www.781CLUE.org. Crime Stoppers only wants your information, not your name. Our telephone lines are not recorded and we don't use caller ID or *69.

Crime doesn't pay...Crime Stoppers does...

If you have information about this crime or any other crime, call Crime Stoppers at 781-CLUE or click to leave us a cyber tip. You could receive up to a $1000 cash reward!