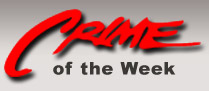 MAPCO Express Robbery
Week of Feb 27, 2014
The Franklin Police Department is investigating a robbery.
Police say on Wednesday February 19, just before 10PM a man entered the MAPCO Express just off I-65 and demanded money. Employees told police they were in the process of closing when the man burst into the store grabbed a female employee by the hair and began screaming "Open the cash register!". Employees complied and the man left.
The man is described as a black male 5'8" to 5' 10", 150 – 180 lbs., thin build wearing black hooded sweat shirt, purple camouflage bandanna over his face, blue jeans and tennis shoes.
If you have information about this robbery, Crime Stoppers will pay you cash for information leading to this man's arrest.
You can "text a tip" to Crime Stoppers. Text "SCKY" plus your message to 274637 (Crimes).

All information is secure and you will remain anonymous.
If you have information about this crime or any other crime, call Crime Stoppers at 781-CLUE or click to leave us a cyber tip. You could receive up to a $1000 cash reward!