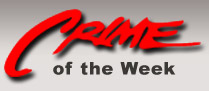 Gas Station Burglaries
Week of Feb 19, 2014
The Bowling Green Police Department is investigating three burglaries they believe are related.
Detectives say in the very early morning hours of Wednesday January 22nd, burglars broke into Jr. Foods in the 5000 block of Scottsville Road. Then in the early morning hours of Wednesday, January 29th, police believe the same two crooks burglarized the Shell Station in the 400 block of Riverview. After a month off the two are at it again. Now police say in the early morning hours of Tuesday, February 18, the bandits broke into Minit Mart in the 1200 block of Campbell Lane.
In all the burglaries there are over $50,000 in damages and stolen product. The men are described as white males one wearing a dark blue hoodie, blue jeans and dark colored knit cap and a mask. The second was wearing a black jacket, blue jeans and both seem consistent in all the break-ins.
If you know who these men are – Crime Stoppers will pay you cash for information leading to their arrest. You can "text a tip" to Crime Stoppers. Text "SCKY" plus your message to 274637 (Crimes). All information is secure and you will remain anonymous.
If you have information about this crime or any other crime, call Crime Stoppers at 781-CLUE or click to leave us a cyber tip. You could receive up to a $1000 cash reward!