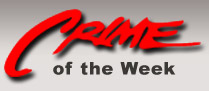 Shooting/Motorcycle Theft
Week of Jan 29, 2014
The Kentucky State Police are investigating a shooting.
Kentucky State Police detectives say on the evening of Monday, January 20th, two men agreed to meet regarding the sale of a motorcycle the victim had listed on Craigslist. The men met at an area convenient store and drove to the area of Southern Sky Circle just south of Bowling Green. While discussing the motorcycle the suspect demanded the keys and threatened to shoot the victim unless he gave him the keys. The suspect then shot the victim in the leg and stole the motorcycle. An unknown man drove the suspects truck as they both left the area.
If you recognize this man or this truck, Crime Stoppers will pay you cash for information leading to his arrest. You can "text a tip" to Crime Stoppers. Text "SCKY" plus your message to 274637 (Crimes). All information is secure and you will remain anonymous.
If you have information about this crime or any other crime, call Crime Stoppers at 781-CLUE or click to leave us a cyber tip. You could receive up to a $1000 cash reward!