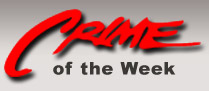 Outdoor Equipment Robbery
Week of Jan 15, 2014
In 2013 Crime Stoppers paid just under $7000.00 in rewards for crimes solved in Warren and surrounding counties. Crime Stoppers appreciates your help. Now the Bowling Green Police Department is investigating a burglary of a local business.
Police say during the overnight hours of Thursday, December 19th, someone broke into Faxon's Outdoor Power Equipment in the 800 block of the Bypass. Employees told police when they opened for business on Friday, December 20th, they found one of the store front windows had been broken. Employees soon realized two concrete saws and two chainsaws had been stolen.
Police hope you recognize these saws or know someone who may be trying to sell them. Crime Stoppers wants your information and will pay cash to you for information leading to their arrest. You can "text a tip" to Crime Stoppers. Text "SCKY" plus your message to 274637 (Crimes).
If you have information about this crime or any other crime, call Crime Stoppers at 781-CLUE or click to leave us a cyber tip. You could receive up to a $1000 cash reward!